April 1st, 2021
Call to Order / Roll Call
Oral Communications
Agenda Changes, Additions, and Deletions
City Official Reports
1. Transmittal of 1) the ARB Meeting Schedule and Attendance Record, 2) Tentative Future Agenda items and 3) Recent Project Decisions.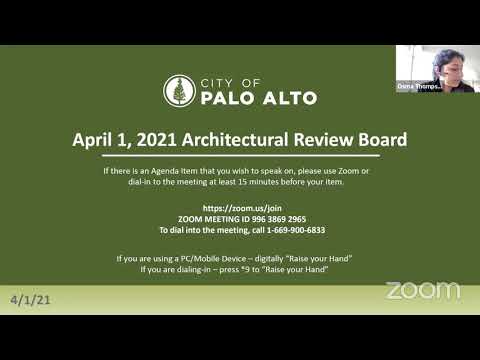 Study Session
2. 2850 W Bayshore [21PLN-00041]: Request for Preliminary Architectural Review of a Proposed 48-Unit Residential Townhome Development. Environmental Assessment: Not a Project. The Formal Application Will be Subject to California Environmental Quality Act (CEQA) Review. Zoning District: ROLM (Research Office and Limited Manufacturing). For More Information Contact the Project Planner Claire Raybould at Claire.Raybould@cityofpaloalto.org.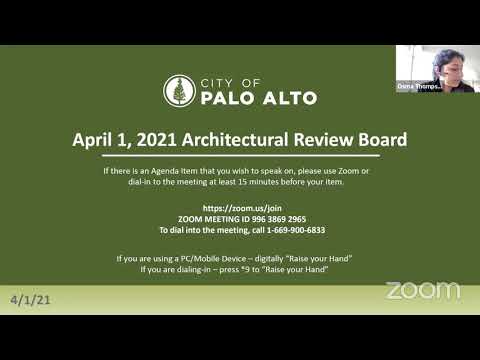 Action Item
3. Public Hearing: Recommendation on Objective Design Standards (Continued from March 18th, no staff report changes, Attachments B-E added).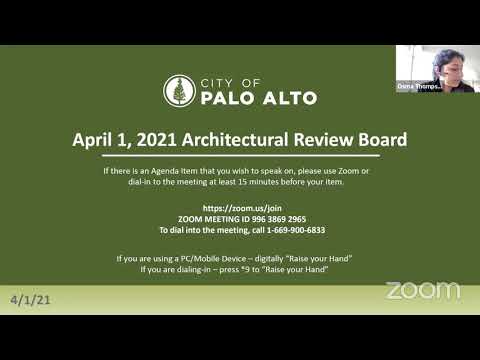 Board Member Questions, Comments or Announcements
4. 656 Lytton Avenue [19PLN-00040]: Staff Level Ad Hoc Approval Memo from March 4, 2021
5. North of Ventura Coordinated Area Plan (NVCAP) Working Group Updates – Boardmember Lew
Subcommittee Items
Adjournment