April 15th, 2021
Call to Order / Roll Call
Oral Communications
Agenda Changes, Additions, and Deletions
City Official Reports
1. Transmittal of 1) the ARB Meeting Schedule and Attendance Record, 2) Tentative Future Agenda items and 3) Recent Project Decisions.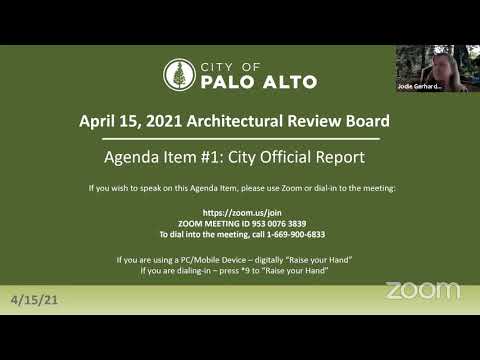 Study Session
3. 300 Pasteur: Preliminary Review Request by Stanford University Medical Center to allow a 38,000 Square Foot addition to the 1989 portion of the existing Stanford Hospital. Environmental Assessment: Not a Project. Zoning District: HD. For more information, please contact the Project Planner Emily Foley.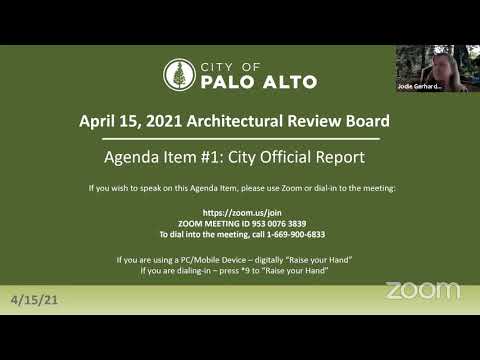 2. Study Session: Request for Comments on Staff's Proposed Changes to the Height Transition Code Sections, Which are a Part of the Larger Housing Streamlining and Objective Design Standards project.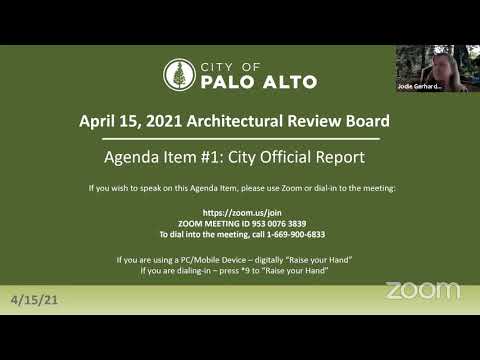 Action Item
4. PUBLIC HEARING/QUASI-JUDICIAL: 4256 El Camino Real [21PLN-00034]: Request for Changes to an Approved Project to Revise the Underground Garage Parking and Clarify the Director's Parking Adjustment. Environmental Assessment: Use of a previous EIR. Zone District: CS (Service Commercial). For More Information Contact the Project Planner Samuel Gutierrez at samuel.gutierrez@cityofpaloalto.org. (Continued to May 6, 2021).
Approval of Minutes
5. Draft Architectural Review Board Meeting Minutes for March 18, 2021
Board Member Questions, Comments or Announcements
North of Ventura Coordinated Area Plan (NVCAP) Working Group Updates – Boardmember Lew
Ad Hoc Committee Items
6. 180 El Camino Real [20PLN-00172]: Ad Hoc Committee Review of a Previously Approved Project That was Conditioned to Return With Additional Details for the Location and Placement of Three (3) Signs for the Macy's Building within the Stanford Shopping Center. Environmental Assessment: Exempt per Guideline Section 15301. Zoning District: CC (Community Commercial District). For More Information Contact the Project Planner Samuel Gutierrez at Samuel.Gutierrez@cityofpaloalto.org.
Subcommittee Items
Adjournment