April 7th, 2022
Call to Order / Roll Call
1. Adoption of a Resolution Authorizing Use of Teleconferencing for Architectural Review Board During Covid-19 State of Emergency.
Oral Communications
Agenda Changes, Additions, and Deletions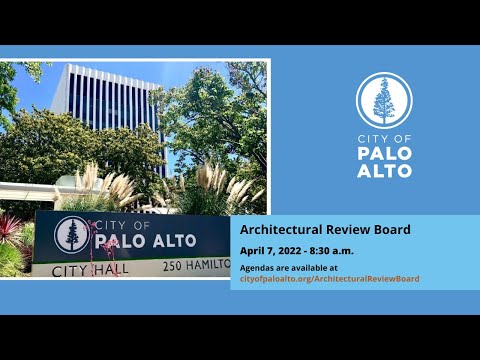 City Official Reports
1. Transmittal of 1) the ARB Meeting Schedule and Attendance Record, 2) Tentative Future Agenda items and 3) Recent Project Decisions.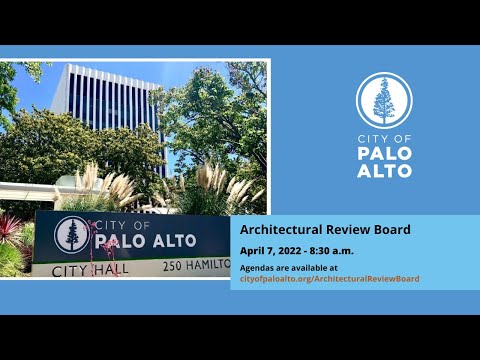 Action Items
3. Request for Major Architectural Review for Sign Exception for the installation of one illuminated free-standing sign that exceeds the allowed sign area. The sign is proposed to be 60″H x 138"L with an area 40.25 square feet where only 24 square feet is allowed. Environmental Assessment: Exempt From CEQA in Accordance With Guideline Section 15311 (Accessory Structures). Zoning District: PF (Public Facility).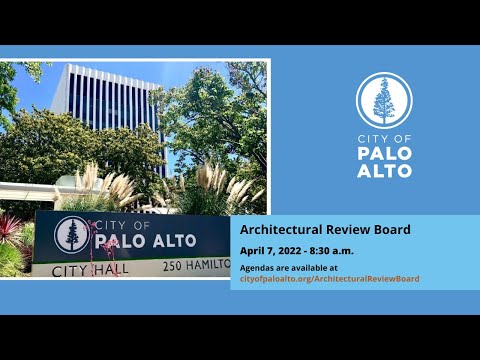 4. PUBLIC HEARING / QUASI-JUDICIAL. 3300 El Camino Real [21PLN-00028]: Consideration of a Major Architectural Review to Allow the Construction of a new two-Story, 50,355 sf Office/R&D Project with 40% Surface Parking & 60% BelowGrade Parking. The Proposal Includes 2,517 sf of Amenity Space. Environmental Assessment: Pending. Zoning District: RP (Research Park). For More Information Contact the Project Planner Garrett Sauls at Garrett.Sauls@CityofPaloAlto.org.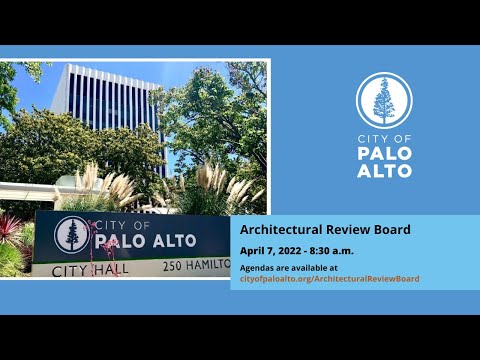 5. Public Hearing: Discuss Revisions to Objective Design Standards based on Feedback from City Council and Analysis of Missing Standards (Continued from March 3, 10, and 17, 2022).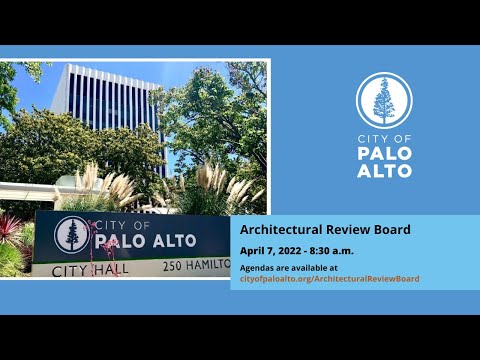 6. Discuss the Draft Architectural Review Board's (ARB) Draft Work Plan, Suggest Changes, and Recommend Submitting the Draft Work Plan to the City Council; and Discuss the ARB's Annual Report and any Bylaw Changes Needed (Continued from March 3, 10 and 17, 2022). – CONTINUED TO APRIL 21, 2022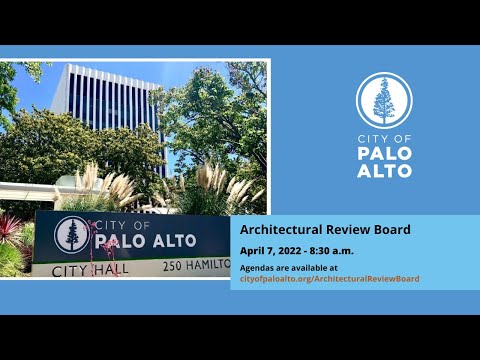 Study Session
7. California Avenue Street Improvements / Parklets – CONTINUED TO APRIL 21, 2022
Approval of Minutes
8. Draft Architectural Review Board Meeting Minutes for March 3, 2022
Subcommittee Items
9. 300 Pasteur Drive [21PLN-00235]: Ad Hoc Committee Review of a Recently Approved Project That was Conditioned to Return With Consideration to Alternate Treatment to the Base of the Building as it Interfaces with the Promenade to Provide More Visual Interest. Environmental Assessment: Certified EIR for the Stanford University Medical Center Facilities Renewal and Replacement Project (Council Resolution No 9168). Zoning District: HD (Hospital District). For More Information Contact the Project Planner Emily Foley emily.foley@cityofpaloalto.org.
Board Member Questions, Comments or Announcements
Adjournment