October 1st, 2020
Call to Order / Roll Call
Oral Communications
Agenda Changes, Additions, and Deletions
City Official Reports
1. Transmittal of 1) the ARB Meeting Schedule and Attendance Record, 2) Tentative Future Agenda items and 3) Recent Project Decisions.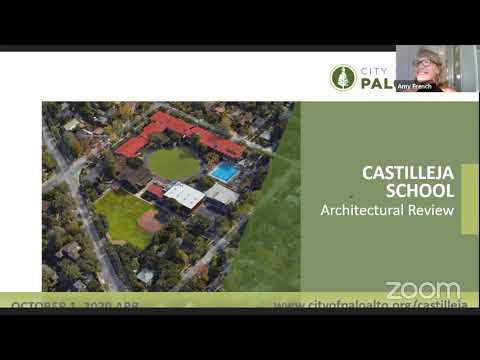 Action Items
2. PUBLIC HEARING/QUASI-JUDICIAL: 1310 Bryant Street Castilleja School Project Second ARB Hearing [19PLN-00116]: Architectural Review of Castilleja School's Phased Campus Redevelopment Proposal for Site Modifications, Demolition, Construction of a Below Grade Parking Garage and a new Classroom Building, and Minor Alterations to one Facade of a Historic Inventory Category 3 Building on Campus. Redevelopment is Associated With a Request for Conditional Use Permit (CUP) Amendment and Variance for Gross Floor Area (GFA) Replacement. Zone District: R-1(10,000). Environmental Review: A Final Environmental Impact Report (EIR) was Published July 29, 2020. For More Information Contact Amy French, Chief Planning Official, at amy.french@cityofpaloalto.org.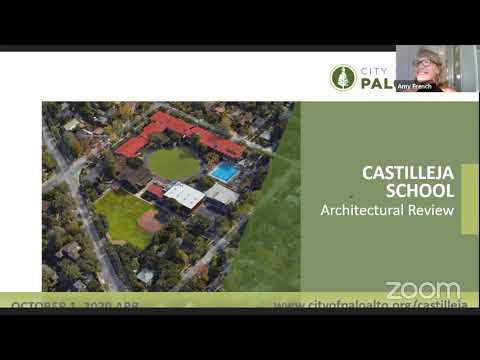 Approval of Minutes
3. Draft Architectural Review Board Meeting Minutes for August 20, 2020.
Board Member Questions, Comments or Announcements 
North of Ventura Coordinated Area Plan (NVCAP) Working Group Updates – Boardmember Lew
Objective Standards – Jodie Gerhardt, Boardmember Thompson and Boardmember Hirsch
Adjournment
Subcommittee Items